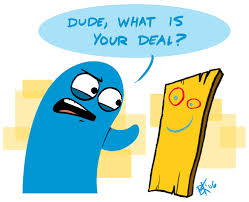 To reiterate from Part 1 and Part 2 of this article series, the noise created by the narcissist is nothing more than a distraction meant to divert your attention from whatever his plans are immediately following the moment he goes silent. It's a play of smoke and mirrors he feels is necessary probably because he knows that, deep down, you're on to him. Again, it's all part of the strategy in the narcissist's pathological relationship agenda that I discuss in detail in When Love Is a Lie…..and the narcissist follows it to a tee.
Get the Book That Explains it All: Only $3.99

  – Click Here
Like a prisoner in solitary confinement, we go nuts in the silence…pining for his contact, for his touch…that evil touch that wants nothing more than to hurt us. The narcissist, in his silence, says – in unspoken words, of course – that we are about as important as the shit on his shoe. He discards us as if we were nothing but a huge annoyance that he's finally rid of….a piece of garbage….a nothing…and absolute nothing.  So, what do we do? How do we – and what can we – do to fix our emotions and move forward? The solution is simple: learn to appreciate and take full advantage of the silence. Once you do that, the rest takes care of itself. I can promise you that.
In my book, I discuss at length a series of mental shifts that began to occur out of nowhere as soon as I got a grip on the big picture and started relinquishing my grip on the narcissistic nonsense. I began to appreciate the silence even while suffering through the separation anxiety. Without the phone ringing (and me waiting to jump on it lest I – God forbid – miss his call)….without feeling homebound in the nervous anticipation that he might stop by and I wouldn't be there…without feeling that my life, from moment to moment, depended solely upon the Puppeteer's next narcissistic tactic…without all of that, I  could finally breath.
I realized the fact that if he considered himself disconnected from me, then anything that I wanted to do from that moment forward (or at least until he came back – which I knew he would) was none of his fucking business. I was – albeit temporarily – free to do whatever I pleased. And, at that point, anything that I did would serve to be a beautiful distraction from the pain and that's exactly what I needed and what you need right now if you're feeling that awful why-is-he-ignoring-me-I-love-him-so-much feeling.
Right now, if you're still with this person and you know or think that he'll be back (like he always does), then take this wonderful time he gives you in between to do whatever you want. You damn well know from experience that he's going to keep doing what (or who) he's doing right now until he's good and ready to do otherwise (no matter what you do to try and stop it) so enjoy the time off! And if you feel that, this time, it really might be over or that you don't want to want him back anyway, then this is your time and your time only going forward so take total action and wallow in the silence appreciation! The end result could potentially be the strength to pass on the need for closure (which we'll never get anyway) and to go no-contact once and for all and, honestly, isn't that what we really want?
Subscribe to TheNarcissisticPersonality Update Feed
(Visited 17,724 times, 2 visits today)