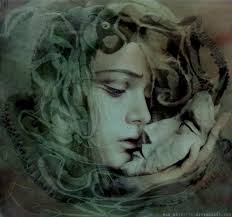 Narcissistic partners suck – we know that. No matter what we do or say, they can't love us and we can't fix them. Inevitably, the good-by is bittersweet. From one silent treatment to the next, amidst all the hoovering and narcissistic discards, we hope and grieve and hope and grieve until our hearts have no choice but to give up and give in to acceptance as a means of salvation.
At some point, we have to choose life over the narcissist's manipulation. It's something no one can even begin to understand unless they've lived the experience.
Once the victim of a narcissist boyfriend, I've now had both the privilege and opportunity to write books, blog on this website, and counsel others out of their pain. These tasks and all the wonderful, caring people who visit here have helped me move forward and, thus, my pain has faded into something far less threatening. But while this is truly a good thing, maybe it's also true that I, too, need to be reminded every so often of just how awful Wayne really was and just how bad he made me feel. Maybe I've needed to rewind the movie back a few years so that I could watch, thankfully with detachment, how Wayne's cold narcissistic indifference turned this strong, independent girl into a pile of mush. Well, today, in a dusty envelope under a big stack of papers, I found my reminder.
The following poem was written by me in 2003 just a few years into the 13-year relationship and in the midst of a devastating silent treatment. Reading the words brought back a flood of emotions and tears because, without a doubt, it could have been written by any one of us who come to this website.
So, I'm sharing it with all of you….
A Bittersweet Good-By (by Zari Ballard)

Bittersweet, I hate that word
It makes me sad, its so absurd
For when its time to sink or swim
I always drown from missing him
Good-bys are bittersweet, he'd said
And left me lonely in my bed
He wasn't where he'd meant to be
I'd beckoned him to come to me
And as the sun began to rise
He fled so there would be no lies
And vanished…right before my eyes
Then Silence, that I fear, begins
I try to call, an endless ring
I want to talk but always cry
My anger is in fact a lie
Outside his door, I can't come in
I fall apart…the Silence wins
His good-by is Bittersweet, I know
It follows me, however slow
And creeps upon the love I feel
Biting gently at my heels
Fearing grief, I try to run
Knowing soon the end will come
I hate good-bys, I hate the end
I hate to let the sadness in
It makes me just a little girl
Who clings too tightly to her pearls
If I let go, my heart won't beat
From missing him, I'll never sleep
But here it comes, however slow
His Bittersweet good-by….I know
When I wrote this poem, I was inconsolable and so utterly heartbroken. I missed him so much, I could barely breath. In utter desperation, I typed these words on a pretty piece of paper and left it on his doorstep hoping it would make a difference and end the silence. Instead, he returned it to me….because I meant nothing. Today, so many years later, it became exactly the reminder I needed.
Let your hearts not be troubled, sisters and brothers, for there are reminders everywhere that are reason enough for you to end the suffering. Your happiness is and always has been patiently waiting…..
Love,
Zari  xxoo
(Visited 34,168 times, 4 visits today)