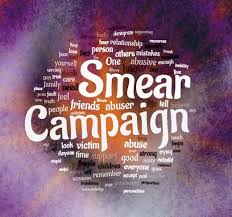 When we dump a narcissist or a narcissist dumps us, one of the first things that they do (to make themselves feel better) is embark on a smear campaign. Somehow, running a smear campaign provides the narcissist justification as to why we were never worthy of their presence to begin with. By talking smack around town about the discarded partner…by getting "the word out" about how horrible the ex is…the N feels pumped up and vindicated about however the relationship came to an end.
Most of us who've been involved with a narcissist have experienced being the target of a smear campaign at one time or another. It might even be that, with a break-up on the horizon, you're worried in advance of what you already know will certainly be one. After all, breaking up with a narcissist isn't exactly like any other break-up or divorce on the planet. If there are mutual friends, co-workers, or children involved, there will always be radioactive fallout but it's not nearly as scary as it appears to be. In fact, by making one amazingly simple switch within our reaction to it, we can all but instantly change the dynamic of the smear itself. The key, my friends, is to say NOTHING at all…not a single world…and, believe me, there will be power in your silence.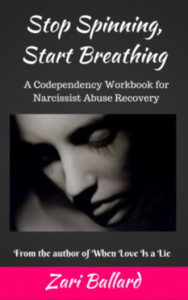 Naturally, when someone is talking shit about us to others, our first reaction is to want to defend ourselves. In many situations, of course, defending ourselves is the right thing to do but when the person talking smack about us is our narcissistic ex, I have found that silence on our part is the absolute – and only – way to beat him at his own game. In fact, I discovered that our silence during the smear campaign exposes him for the asshole that he really is. Our silence actually creates plausible denial in the smear, ultimately causing the truth to prevail.
The fact is that WE DON'T HAVE TO DEFEND OURSELVES AGAINST DOUCHEBAGS. We just don't. The fact is that a narcissist will talk bad about us to everyone anyway– his family, our family, our kids, mutual friends, co-workers – and there's not a whole lot we can do about it. The smear campaign is one of the oldest narcissistic tricks in the book. Sure, we can run around behind him doing damage control or talking smack back but we're dealing with a narcissist here and he will use our defensive reaction as proof that we are exactly as he describes. This is what he is counting on. This is, in fact, a narcissist's end game throughout the entire relationship!
I'm here to tell you that, throughout all of the N's smearing during and after the relationship, all we ever have to do is be quiet and be normal and the N will quickly end up looking like the piece of shit that he is. Yes, it is hard to do but – OMG – the rewards are amazing and they come quickly. This strategy works, by the way, even with narcissists that are well liked and even loved in the community. It always works.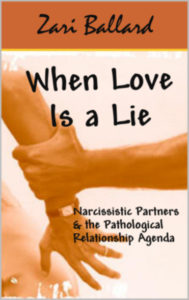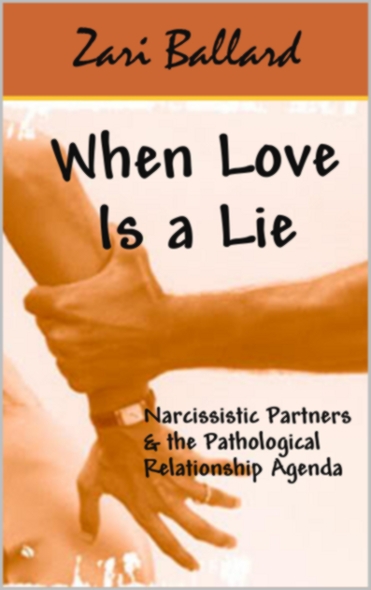 Think about the scenario objectively. Imagine that you're part of a group and one of the couples that you know is in a tumultuous relationship. Together or apart, they're always causing  drama and within the group, everyone is annoyed.  So, the couple finally breaks up and now you start seeing them each separately. You notice that the guy does NOTHING but talk shit about his ex for hours on end but when you see her, she says nothing about him at all. She doesn't even talk – or want to talk – about the break-up. She just mingles with the group like she always has. It's awkward at first because her ex is like the elephant in the room, having said some horrible things about her…but everyone soon gets over that. As time passes, who is going to look more favorable in your eyes?  The person who talks all kind of smack about the ex or the the ex that is normal and nice and never even mentions the other one? The answer is obvious. I'm serious, even if the one half is spewing word garbage week after week that his ex is a murderer, the fact that she never utters his name and is as sweet as can be whenever you see her is going to cast doubt on everything he says. It creates plausible denial in her favor and, again, it always works! Eventually, he will have to stop talking.

Wayne – the ex of my book When Love Is a Lie – was a shit talker. It didn't matter if we were together or broken up or where he was when he did it, if there were people within earshot that knew me or knew of me, he happily talked shit about me. Throughout it all, I said not a word. In fact, I was so silent about him, that most people who knew both of us weren't sure if we were really even together. One couple pulled me aside and asked if I knew who he was!! Here's Wayne talking crap about me to a group of people that we both know and they're all thinking Holy Crap, does Zari even know this guy? She never even mentions him! Because of my silence, when the relationship was really over, these friends automatically gravitated towards me and they had been HIS friends to begin with. As a narcissist knows, silence can be very powerful. Ha-ha!
Was it hurtful to know that my ex never had a nice thing to say about me behind my back? Of course it was. It devastated me. Did I feel embarrassed sometimes to be around people KNOWING what he must be saying when I'm not there? Of course I did. But the truth is this: people really don't want to hear about your drama and they will WELCOME your silence. We imagine that people hang on the narcissist's every  word but this just isn't true. No one loves the narcissist unconditionally like we foolishly did. No one! The narcissist, if you allow him to talk unfettered, will eventually alienate the world. Everything he says inevitably goes out the window.
This strategy is foolproof…and why? Because in the end, the truth really does prevail and our silence allows it to happen. People aren't stupid and not everyone buys into the narcissist's shit. We only think they do because we're the target. I don't care WHAT he is saying about you or how awful it is…just stay silent! This means when daddy is talking smack about mommy to the kids, mommy, although she wants to, does not reciprocate. The kids will figure it out and so will everyone else – and all without you ever saying a word in your defense. In this case, silence is a foolproof solution to a very big problem and you will have finally beaten the narcissist at one of his own fucking games.
(Visited 21,935 times, 49 visits today)