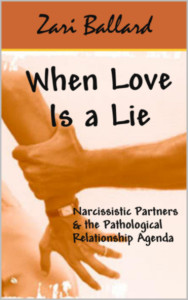 .
An excerpt from Zari Ballard's book  When Love Is a Lie:
A narcissist's pathological relationship agenda is a phrase that I coined relevant to the undeniable fact that every narcissist we will ever meet or read about treats their partners the exact same way. And if I do say so myself, I haven't read or heard a phrase that explains it any better.
Now, certainly I could refer to the narcissistic behaviors I speak of as symptomatic of the borderline personality disorder because I know this to be true as well. However, since I don't appreciate having to give a narcissist, sociopath, or psychopath any way out or excuse to hide behind, I prefer to call it by exactly what it is – a pathological agenda meant to destroy the identity and soul of the recipient.
What the N does is deliberately manipulate every possible situation so that he fully dominates our thought process. This, in and of itself, is the most frustrating part of narcissistic relationship agenda. It's incredibly hard to live our lives when half of our brain is focused on this one individual. We can never quite relax in our own mind because the N is always plotting and then implementing ways to keep us unbalanced and insecure. This is his plan for us – the most essential part of his relationship agenda – and he, too, is very good at what he does.
The narcissist's relationship agenda is his modus operandi for living. He has no other choice but to fulfill the requirements of the agenda to the best of his ability or life, as he knows it, will be far from worth living. Keep in mind that since the narcissist is completely void of human emotion, he must create emotion (i.e. suffering) in others to get his fix. Now, as I stated earlier, this agenda being part of the narcissist's borderline personality disorder does not make it okay, it just makes it what it is. We don't have to accept it or adhere to it or allow the narcissist's determination to fulfill it get in the way of our lives – but we do. The more we do this, the better he feels about himself and his miserable, empty life.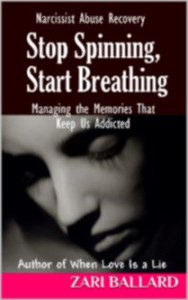 .
You see, any relationship where one partner is a narcissist will never get better because the N likes it just the way it is. His plan…his relationship agenda from day one, is always clear in his mind and that is to keep his long-time lover, girlfriend, or wife – as his main source of supply – in a heightened state of anxiety. In fact, the person who is his main source is actually secondary in his life to his multiple primary sources – that is, the other women, men, and extracurricular dalliances he plays with on the side. Yup, that's right – his main squeeze in not even the most important one but rather the most convenient because the effort to keep this person in the game is so minimal. The narcissist knows that invoking a good, hearty silent treatment every so often will keep his partner in line, condition her passive-aggressively according to the agenda, and buy himself time to tend to his other relationships. Sad, but true. With that system in place, the N happily gets what he wants from life – a big piece of sugary cake and all the time in the world to eat it.
Don't ever forget that when the narcissist's partner suffers, he wins. Why? Because, according to the narcissist's relationship agenda, our suffering is the narcissist's reward for a job well done.
If you enjoyed this excerpt of When Love Is a Lie, click here to get the full version!
(Visited 63,765 times, 13 visits today)