When it comes to narcissists and sex, we have to understand that the narcissist has no preference in who they fuck. No preference at all. In fact, a narcissist lives in a world of no-preference where he/she finds something fuckable in everybody. Once we understand and accept this, we see clearly that the problem isn't us and that no amount of great sex that we have as a couple is ever going to change it. Yes, my friends, no back flip, triple sow-cow, or handspring cartwheel on our part will ever secure us as his preference over anything – ever. It's simply not going to happen.
Free Ebook Bundle or Audio Book
w/ Consult Booking

As I've explained before, my ex narc and I had amazing, over-the-top sex each and every time for 13-years straight. We even enjoyed a round of great sex on that very last day four years ago – the day that he walked out and basically never came back. For most of the years up until that point, it was this awesome sex phenomenon that caused me the greatest confusion. How can we have such terrific sex yet I still can't kick the feeling that if the opportunity arises to fuck someone else, he'll take it? It just doesn't make any sense.
The truth, however, is that it does make sense. In fact, it makes perfect sense when you really examine how a narcissist thinks about relationships and about people in general. A normal person in a normal relationship is usually attracted to a certain type of person. This could mean that, for a guy, he likes blondes or brunettes or girls with big boobs or no boobs or whatever. For a girl, it could mean she likes men who are tall or who have an athletic build. The partners of these people usually come pretty damn close to matching that preference and we can assume that if and when these people choose to cheat, the person that they cheat with is going to match that preference as well.  If we're involved with these "normal" people, we assume that if our partner cheats this "other" person is going to look…well…kinda like us, right? This is simply how it normally works and there's no rocket science involved.
The narcissist, on the other hand, has no preference at all as to who he hangs out with. This is why we're always shocked when we actually get a look at who it is they cheat on us with or who the partner is of a married narcissist. I hear it day in and day out and I went through it myself. In my mind, the other woman or whomever he would triangulate me with must certainly at least look like me or dress like me but that was never the case. At first, the discovery would make me feel better. As time passed, however, I became mortified as it slowly dawned on me that he had no preference at all. Suddenly, everyone everywhere was a threat! Tall, short, fat, skinny, blonde, or brunette…everywhere I looked, I saw competition. Yet, the great sex continued and I imagined it as the almighty connection that would always keep us together. Wrong again.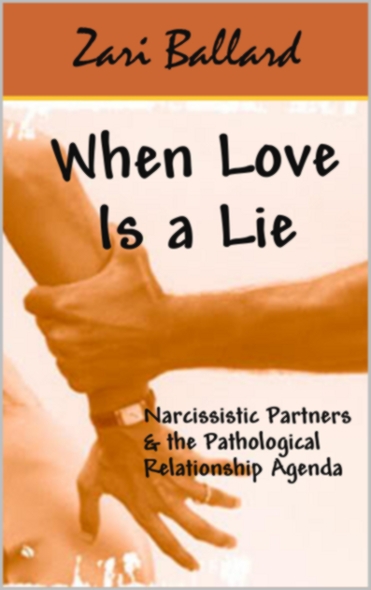 The fact that the narcissist has no preference may also lead us to wonder (ever so quietly) if the narcissist perhaps swings both ways. All the homophobic rhetoric that a narcissist spews whenever necessary and when the subject arises suddenly means nothing. In fact, the more rhetoric my ex spewed about this gay guy or that gay guy or some sexual fetish or deviance, the more suspicious I became. All at once, I would put nothing past him. Not that he would EVER admit to such a thing or that I ever really had a reason to think that…it was just a feeling I got every once in awhile when he would disappear and there was no other girl to be found. I've come to believe that, because the typical narc would never admit to this particular behavior or take chances on being caught, narcissists who are curious about swinging both ways or periodically even do it, will go underground to places we'd never even think to look for them – let alone find them – in order to get it done.
My thinking is that narcissists don't have preferences because they don't feel loyalty and attachment. They simply don't care about anything in particular. This is why they can swing both ways upside down and backwards without blinking an eye. This is why a narcissistic partner will leave you to go live or hang out in a place that is far beneath what you have to offer. One woman I spoke to was shocked that her narcissistic husband would leave her and the children and their beautiful home only to shack up with some girl in a trailer on the worst side of town. My ex did the same thing. He'd disappear from my upscale apartment in the mountains and two weeks later I'd find him living at a No-Tell Motel looking perfectly smug and comfortable. This is mind-boggling narcissistic behavior that only proves that a narcissist does not and will never know what he has no matter how good it is. He simply doesn't care either way.
Narcissists are sexual opportunists who see the world as filled to the brim with opportunities and they're always looking. We just happen to have been an opportunity that, for whatever reason, stuck after the initial encounter. And hell – since the narc has no preference whether we stay or go – he might as well let us hang around! This is indifference on a very grand scale yet, as is loving partner, we refuse to see it for what it is. Nothing is normal about any of it! To think that we can keep these people happy with love, comfort and great sex is our biggest misstep in the relationship and it will inevitably be our demise.
Now, the good news – and yes there IS good news – out of all this is that the narcissist's infidelity and no-preference behavior has nothing to do with us and we can walk away from the whole mess blame-free. We don't have to worry what the new girl has that we don't or why we weren't good enough or if the narcissist is truly happy now because none of that matters! And because nothing matters, we don't even have to forgive this person – he doesn't deserve it.
As I always say, since the narcissist admits to nothing, we have to be confident in the truth that we know and go forth. Make no mistake about it – there is a world of people out there that appreciate everything about you!
Save
Save
Save
Save
Save
(Visited 8,726 times, 13 visits today)