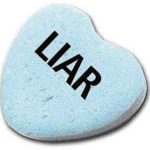 Breaking up with a narcissist is never easy but it's entirely possible. You must look deep into your hearts, my friends, and I promise you that you will find the answers. And sometimes it sure helps to write about it so think about doing that the next time you feel sad inside.  So, while I was writing another article, a few words came to mind about – surprise – the narcissistic lie and I ran with the idea, turning it into a poem named after my first book. And I'd like to share it with you.
Now, I'm certainly not and never have been a poet but I thought that as simple as it is, this little poem both summarizes the narcissistic partner (in a nutshell) and tosses in a bit of empowerment to the mix.
So, for what it's worth, enjoy….
When Love Is a Lie

He'll berate, belittle, insult, and destroy you….
Deceive, devalue, idolize, and ignore you…
He'll block you then stalk you,
'til you do what he taught you
His prize for The Lie is a chance to discard you

He'll seduce and betray, confuse and neglect you
Without a single regret, he intends to infect you
In the blink of an eye, he'll all but erase you
His venomous words are meant to disgrace you
He buried your soul down a dark rabbit hole
And planned your demise from the moment he met you

So, what do you feel? Do you know why you cry?
Is it fear that consumes us when love is a lie?
Is it hard to let go if it's all that we know?
If the bad that he is, is as good as it gets
We must look to our heart for it's time to reflect
Make him fade into black from the fear of attack
I am you, you are me, & we'll never be back
Bitter and broken, on the wind it was spoken
From a dream, we've awoken
From a dream, we've awoken
(Visited 12,452 times, 4 visits today)