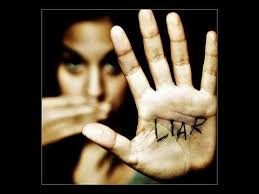 When the narcissist is confronted with a lie, he will instantly create plausible deniability so that doubt is cast on the very facts/evidence laid out before him (or her!). Within seconds, a narcissist can spin a story to cover a story to cover a story, intentionally confusing the accusing partner who has typically taken great pains to present evidence that couldn't possibility be denied. It's amazing how they do it and it's even more amazing how we fall for it or accept the lie that covers the lie. But this is how the narcissist gets a free pass in everything he or she does.
Plausible deniability is what makes us look the other way, give this person another chance, give the benefit of the doubt. With just enough plausible deniability in a story, a narcissist can get away with murder while holding the bloody knife! This is truly a talent because the narcissist, as busy as he is day to day, must always be ready to create a story on the fly to cover the initial story that he spun to perpetuate the lie – but he does it and he does it well! What do you mean you saw a naked girl running out the back door this morning? I don't know what you're talking about. Was my car here? No! What do you think – that I parked it down the street? Yeah, right! I went to work early…call my boss…go ahead do it. Unless you have pictures, you better fucking back off. Somethings wrong with you. And unless you DO have those pictures, what the fuck are you going to do? It doesn't matter that you saw it with your own eyes!! It doesn't matter that you chased her down the street!! His car WASN'T there (how convenient!) and you better shut the fuck up! Yes, plausible deniability is an amazing thing.
I really started thinking about this particular narcissistic maneuver yesterday after receiving a heart-breaking comment from a woman who is going through hell right now and happened to stumble across my book. Her descriptions of her narcissistic husband's crazy-making behavior, the silent treatments, and her manipulation-induced reactions were a chilling reminder of how often I dealt with the same crap no matter how many facts I laid out before my ex. The standard response was always to deny, deny, deny or to completely ignore – and then distract from – the obvious truth by shifting the blame onto me somehow until he had me begging to be forgiven for confronting him. How crazy is that?
To create plausible deniability is a narcissist's tactic – a defense mechanism – for automatically kicking back the insinuation that he would even ever consider doing whatever it is you're accusing him of doing.  It matters not that evidence of his betrayal is front and center. Evidence and fact mean absolutely nothing. Evidence, in fact, will piss him off.
What are you talking about? You're delusional.
That's right..just keeping bring up the past!
Now you're just making shit up. I think you're bi-polar.  
Now I know why nobody likes you. You're a liar!

I think you need to get professional help. You're paranoid.
Oh…and let's not forget the silent stare (which says all of the above and more).

The words used by narcissistic partners appear so amazingly similar and universal because narcissism stems from an ideology that runs very deep…an one-way ideology that spawns the pathological relationship agenda that I talk about in my books.  This particular manipulation is so nefarious and passive-aggressive that it is often referred to as covert narcissism. And, yes, it most certainly does appear many times to be a covert operation, doesn't it?
Because it is extremely hard for someone normal to fathom thinking in the capacity that it always appears a narcissist is thinking, we choose, instead, to "sort of" believe the lie. Sometimes the narcissist's lie is so ludicrous that it's even easier to "let it go" rather than imagine that he really meant to do what you think he's done. We bargain with logic. Sometimes we'll let the evidence go in lieu of confronting him at all lest we take the risk of stumbling around trying to get our words right. We develop that crippling codependency to hope that does nothing but get us into trouble. The N, of course, is hip to all of this and counts on our confusion – and his own absurdity – as his free pass to do just about anything he pleases during the relationship and get away with it. We start to count on the plausible deniability ourselves so that we don't have to deal with it after all!
I mean, it's not as if we've never tried to get the truth out of the narcissist, right? And when we do dare to attempt it? Well, here's an anecdote from my own relationship archive that describes what happens:
[One time, way back, I was driving my car with the N in the passenger seat and I, for whatever reason, felt triggered into bringing up a still-unresolved situation where I knew for a fact he had lied to me. I wanted the truth and I wanted it right then but he would have none of it. The loud and very heated conversation (that I'm sure many of you will find familiar) went something like this:
Me: (screaming) What about that?? Tell me the fucking truth! Why did you disappear?? Where did you go??? Why did you do that to me??
W: I already told you.
Me: Told me what? No, no, no…what you told me a lie. You vanish for two solid weeks and then text me with a frigging lie about flying back east to see your dad?? I SAW your truck in town and I want the truth!
W:  (very calm) Wow…you're not well…what is your problem? What brought all this on?
Me: Answer the question! I saw your truck…I checked the airlines. You didn't GO ANYWHERE. Don't you get it? DON'T YOU GET IT???
W: (talking over me) There is something wrong with you. I'm sick of this shit. I don't think I want to do this anymore.
Me: Don't try to twist this around. Just tell me the truth. For once, tell me the fucking truth. Where were you those two weeks? Do you have PICTURES of your trip? A boarding pass? ANYTHING?
W:  Oh my God, just shut the fuck up.
Me: No, you don't. You just expect me to believe a ridiculous, stupid story. You don't even own a suitcase! You're not going to tell me, are you? I just have to let it go, is that it?? Is that my only option to everything??
W:  (screaming) I SAID I TOLD YOU ALREADY! ARE YOU FUCKING DEAF?
Me:  What?? That you went back east?
W:  YES!!
Me: But IT'S A LIE!! I saw your truck and Chris saw you!
W: Really now? Did Chris see me with someone?
Me: No, but that's not –
W: See?? What more do you want from me? Shut THE FUCK UP!!!
Me: Stop telling me to shut up! The fact is that YOU WEREN'T AT YOUR APARTMENT FOR TWO WEEKS!! You were somewhere with SOMEONE, now tell me the truth!
W: I ALREADY TOLD YOU WHERE I WAS!
Me: Stop lying! Oh my God, I'm begging you to STOP LYING.
W:  You're just a bitch. You never believe anything I say anyway, so what's the point?
Me: (sobbing) Please…the truth. Just tell me the truth.
W:  That's it. I'm done. Let me out of this car!
Me: It never ends…oh my God…
W:  Yeah, tell me about it. You must really, really hate me. I am so sick of this.
Me: Over and over and over….please…
W:  That's right…just keep bringing up the past…
Me: The past? How can you say that? We're talking about last month!
W:  We were having a great day and you just had to fuck it up, didn't you? That's what happened here so don't try to blame it on me. No wonder everyone thinks you're a bully.
Me: A bully?! Who's everyone?? Name someone!
W: See? This is what I mean.
Me: What the fuck are you talking about? That's a distraction! I know what you're doing…
W: Oh yeah, I forgot…you know everything. You're just so much smarter than everyone else. Tell me, how does it feel to be so smart?
Me: Oh my God…you are so mean. Please stop.
W: Stop what? I didn't start this. You did, you moron!
Me: (sobbing)
W: Yeah, it's always my fault. If I'm so bad, then what the fuck are you with me for?!
Me: All I wanted was the truth. I don't even know.
W:  Yeah, well, that makes two of us. You better just take me fucking home before I lose it.]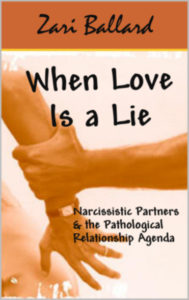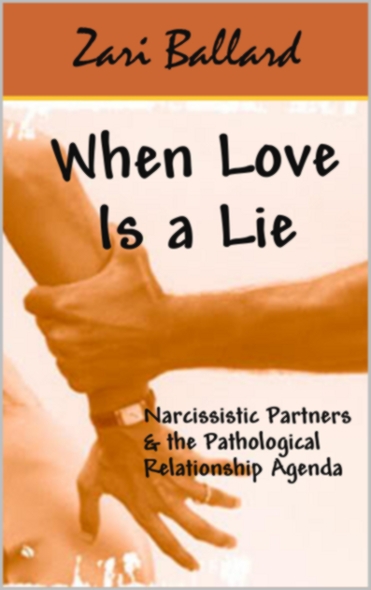 Sound familiar? I have a name for this type of manipulation – the distraction reaction – and if it wasn't so despicable, it would be actually very funny. We've all been there and I'm sure most would agree that the above conversation describes, more or less, one of the more fairly common manipulative, word-twisting narcissistic scenarios that occur whenever we dare to request the truth.  And, although it's exhausting for us, for the N, it's just business as usual. The narcissist enjoys The Lie so much that he'll lie even when the truth is a better story.
Yes, I remember it well…the stuff nightmares are made of. It is these types of conversations that should remind us how just how sacred No Contact really is…how beautiful and calming is that lovely sound of silence.
Repost Update
Save
Save
(Visited 41,184 times, 11 visits today)