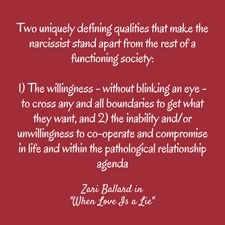 One of the most frequent questions I get asked about narcissists is whether or not they know right from wrong. It appears, obviously, that they don't because how else could they possibly keep doing all those hurtful things over and over and over? Some people (i.e. experts) will say that they don't as well…that narcissists can't differentiate between the two and therefore the consequences of their actions have no meaning. Well, I have a different theory and it's fairly simple: Narcissists know right from wrong…they just don't give a shit. To me, this explains a whole lot more about the behaviors of these people than giving them what I call the psychological "Jesus" pass. Forgive them, Father, for they know not what they do. I don't think so! [By the way, I don't believe we have to forgive narcissists either and you can read about that here]
What people seem to forget is that narcissists are grown up members of society. They know enough about the world to blend in seamlessly or else we would have never have found them. Certainly they know enough about people to know that mimicking certain emotions and producing certain narcissistic behaviors will bring about certain results and they do this beautifully. My ex marveled at his own ability "to read a person in five minutes" and he bragged about it regularly. This is what they do. This is who they are. Of course they know right from wrong…they just don't care! If what they want to do happens to be the wrong thing, oh well. That's just the way it goes. In a narcissist's twisted mind, the impulse – no matter what it is – is well worth the consequence.
Now, we all know that narcissists and sociopaths don't feel empathy and sympathy which is why our feelings about their behaviors mean absolutely nothing. So the next question to ask is Okay, so they know right from wrong and they don't care. But do they ever feel guilt? To this, the experts will often say no and, based on this lack of empathy and sympathy in a narcissist, this would appear to be the logical answer. I actually have another theory which, to me, explains so many of those behaviors from the narcissist that we can't explain. I actually believe that narcissists, indeed, do feel guilt…just not the same type of guilt as we, as normal people, will feel when we hurt someone or do the wrong thing. What we feel is remorseful guilt which is the type of guilt that makes us feel bad, see the error of our ways and change it, ask for forgiveness, and so forth. What narcissists and sociopaths feel is what I call inconvenient guilt and this is very, very different. Inconvenient guilt goes along with my "knowing right from wrong and not giving a shit" theory. Allow me to explain…
Think back to a time period when you and your narcissist were actually getting along and suddenly, one day, out-of-the-blue he just starts treating you like shit. Everything you say is wrong and  you get the feeling that he (or she!) is trying to start a fight but having difficulty finding a reason to do it. In my mind, THIS is the behavior of someone (a narcissist, of course) who is having inconvenient guilt.  Inconvenient guilt is usually what happens right before a silent treatment because the narcissist absolutely knows he is going to go silent….that he is setting up and he knows it's wrong and that he doesn't give a shit. He's feeling guilty alright but, believe me, he's finding this guilt mighty inconvenient!  In fact, he's finding it so inconvenient that he's going to take his frustration out on YOU, the very person that he will soon betray. In doing so, he may even convince himself that you really are annoying him and he has every reason in the world to leave!  Either way, his main goal is to get the fight going or to get you crying and confused so he can leave and get his party started. A narcissist hates inconvenient guilt because it reminds him that what he is doing is wrong and that he doesn't give a shit about doing it. Does inconvenient guilt ever make him think twice about what he is about to do? Of course not because inconvenient guilt is very different from remorseful guilt…and because he (or she!) is a narcissist!
So, expert theories aside (and I'm no expert!), let's stop giving narcissist's a "Jesus Pass" when it comes to their knowledge of right and wrong. They know right from wrong, they just don't give a flying fuck. And the next time – today or tomorrow – a narcissist starts treating you horribly for no reason at all, stop trying to figure it out. No more suffering! Don't blame yourself or go silent trying to make nice because it's not you at all. Rather, look him right in the eye and say, "You can stop this right now because I'm on to you motherfucker" or, better yet, you can show him the door and go on about your life. You don't have to stay with a narcissist – not for love or for anything at all. Either way, a narcissist is going to do what a narcissist is going to do and what we allow will continue. By understanding the enemy, doing the right thing for ourselves becomes our only logical reaction to any and all situations. With a narcissist (especially!), this should be an absolute no-brainer.
Save
Save
(Visited 3,475 times, 15 visits today)