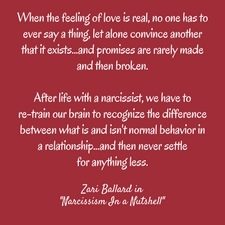 Okay, so why do we stay with a narcissistic abuser even when – or after – we know better? Even when we, as smart, educated, and "normal" people, realize that something about this person that we love is off? Even as we watch the last slivers of our former self…the person we used to be pre-narc escape out the window? Well, the answer is complicated and don't let anyone outside of your relationship tell you otherwise. Since nothing about the relationship with a narcissist is normal, nothing about the way that it ends will be either. The truth is that unless a person has experienced life with a narc first-hand, they will never understand. So, give up the "friendly" advice from friends and loved ones ("Just leave then!" or "I don't understand this. Just walk out!"). You are the only one who can write the ending to the story. It is up to you, as the narcissist's victim partner or target to come to your senses but without the guilt or self-judgment. Having guilt, shame, or self-judgment only keeps you wallowing in the loop so you must set it aside in order to get the ball rolling.
Understand that what gets us into emotional trouble with the narc, causing us to hang in there way past closing time, actually stems from our rather good qualities. Think about it…under most circumstances we'd be praised for not being a quitter, for being willing to forgive, and for having compassion and patience. A person could certainly have worse qualities! The problem with a narc-situation is that none of this is ever reciprocated and that mixes it all up. Our brains simply aren't wired to have our feelings and emotions so completely rejected…and again, why we continue on becomes our biggest source of personal angst. So, to start, lets take a look at just a few of the many complicated and crazy reasons why  we do stay to begin with a narcissistic abuser:
You can escape the madness, my friends, and I can help you. I do it every day, all day with people all over the world. There is no magic fix but relief is possible. It all begins with understanding. If you want to talk about it, call me. This is a crazy life we lead and recovery from narcissist abuse has got to be a team effort.
NAR Support That Works

.
(Visited 1,893 times, 10 visits today)