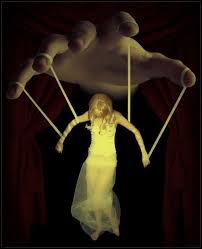 The narcissist is a Master Puppeteer who has the amazing ability to turn unwitting humans into his own personal puppets. If you happen to be his partner (a.k.a. The Person Who Loves Him), the narcissist will basically create and shape your reality to suit his purpose and you'll become a puppet before you even know it. You'll become fanatical about performing the puppet dance for slivers of peace but you'll never get any. It's all about control and no one knows control better than the narcissist himself.
Even during the initial love-bombing stage, the narcissist covertly trains the target. By behaving in certain ways, he will train you to do things his way and to feel the things he wants you to feel so that he can get away with whatever he wants. He will do this through the use of narcissistic tools such as silent treatments and other passive-aggressive punishments, great sex or the withholding of sex, chaos campaigns, and secrets, secrets, secrets. Puppet-making is a process that takes much expertise to end up with a worthy puppet. For the victim, insanity is all but ensured.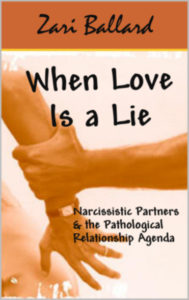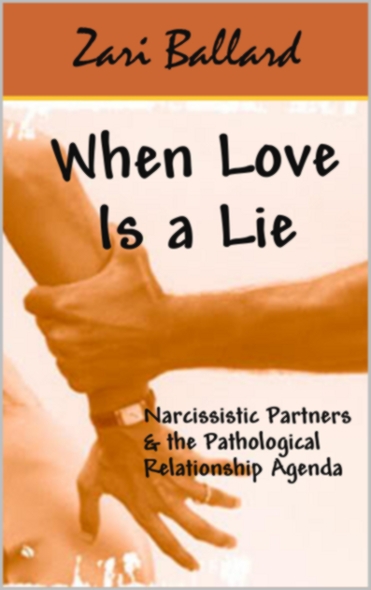 To create a puppet from an unsuspecting target or partner, a narcissist must successfully manage down the relationship expectations of this person so that, as time passes, the partner expects less and less and the N gets away with more. Now, the narcissist isn't naive (or stupid) enough to think that there will never be repercussions from his puppet-in-training (PIT). Creating puppets – or just one very "special" puppet – tests the patience of even the staunchest, most polished narcissist because it's often met with resistance by feisty targets (like ourselves). In as much as we eventually do became puppets,  we DID buck the system when we felt controlled. When this happened, the N probably carefully chose a reaction that kept us on the trajectory while tricking us into thinking we'd "won".
For instance, N's have been known to intentionally behave so suspiciously about something that it causes a fight with his PIT. He'll even do this to the point of getting kicked out or dumped even….and then he'll wait. Soon, he might call or text in an "attempt" to make up, all the while knowing that the PIT, who is feeling empowered, won't have any part of it. The narcissist smugly accepts his punishment and basically goes suddenly silent. This is on page sixty-two of the Puppet-In-Training Manual.
During the silence, the narcissist may do nothing more than hunker down with a stopwatch, counting the minutes, hours, and maybe days until you fall into step. (Is this possible, you ask? Actually no, not really). What he'll likely do is take advantage of the free time to hook-up with the ex before you, the girl from high school on FB, or a couple from the swinger site he frequents. Fully aware that the rewards of his patience would be plenty, he will simply hang in there.
For this particular point in the puppet making process, the narcissist will use passive-aggressive tactics that suit his purpose such as disappearing or giving the silent treatment and/or cold shoulder. As you'll notice, all three of these punishments involve no accountability on his part because, for all intents and purposes, he simply stops speaking. The funny part is that while the PIT thinks she's doing the punishing, it is actually her that is being punished! The intention, of course, is that you – the puppet – will feel crushed and rejected and finally see the error of your ways. Ultimately, he'll never have to explain anything. You'll become so anxious at his silence that you will forget all about the suspicious behavior that started it. YOU will say you're sorry. This process will repeat until you are the perfect puppet. You see, the narcissist always follows a very pathological relationship agenda where your suffering is his reward for a job well done. And it works every time.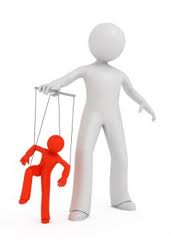 You see, when the Narcissist Puppeteer has graduated you from PIT to puppet, then the fun really begins. He then doesn't have to fake a thing. With a trained puppet to "love", he can break promises, cheat, lie, triangulate, and get away with murder and there will be no consequences. These are all characteristics of narcissism that can never be changed. The cycle of puppet training continues throughout the relationship and repeats effortlessly for the narcissist. As a victim of this type of manipulating abuse, we almost lose our minds.
Don't be a puppet for a narcissistic lover. Don't be a puppet for anybody. If you feel controlled or tricked or gaslighted over anything by anybody, recognize that you are viewing a big red flag. To win, always be aware and willing to back out of a bad deal. Puppets don't win…they just stay puppets.
UPDATED POST FROM 06/16/2013
Download "When Love Is a Lie" from Amazon ($3.99)
Download the PDF Version ! ($5.99)
Subscribe to TheNarcissisticPersonality
(Visited 28,885 times, 6 visits today)