.
When Love Is a Lie

  & 

Stop Spinning, Start Breathing


PDF Bundle: Only $5.99!

[Please allow 4 – 8 hrs for email delivery. Thank you!]

.
Site visitors only now have the opportunity to get two great books on narcissist abuse (in PDF format) for one low price!
.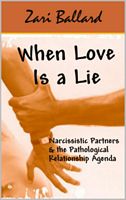 Do you have a narcissistic partner? Are you tired of being subjected to emotional manipulation and silent treatments?  Are you desperate to make sense of the madness yet afraid to ask questions? Are you willing to go No Contact but don't have the slightest idea where to begin and what to do if the narcissist hoovers? Well, if you haven't read Zari Ballard's Amazon Best Seller When Love Is a Lie and the interactive workbook companion book, Stop Spinning, Start Breathing,  you're missing out  on a chance to escape the misery once and for all.
Now, with this special book offer in PDF format (Adobe Acrobat or similar PDF program required), site visitors have the opportunity to get a jump-start on recovery by ordering a PDF Bundle for only $5.99! Scroll down to order via the Pay Now Button and receive two professional PDF versions of the paperbacks in your email in just a few short hours. Due to popular demand, we politely ask that you give us 4-8 hours to make the delivery. We always make a concerted effort to deliver in a timely manner so please be patient!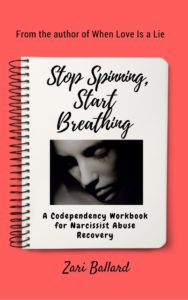 Remember, you don't need to be out of the relationship to start feeling better.Whether you're in it or out of it, the recovery needs to start now.
You can mentally break free from your toxic partner whether you're maintaining "no contact" or still struggling with it, whether your suffering through another silent treatment and expecting a return, or whether this person is hoovering right now to get you back. The more you wait, the more time you waste.