.
Exposing the Narcissist's Relationship Agenda
As it has for thousands of abuse victims worldwide, this very special book may just save your life…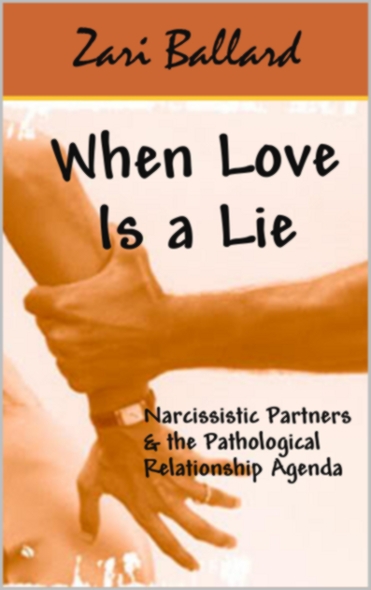 Suffering emotional abuse at the hands of a narcissistic partner or someone with a narcissistic personality disorder can be indescribable for the victim and hard to fathom for anyone on the outside looking in. Most victims of narcissist abuse are unaware that they are even victims until they begin searching for clues as to the odd behaviors of their partner. Eventually, investigations lead to websites such as this one and then all suspicions are confirmed.
Download From Amazon
Only $3.99

Do the behaviors of your partner continually cause you to feel suspicious? Are you subjected to silent treatments and other forms of controlling punishments? Do you find yourself walking on eggshells, choosing to overlook these behaviors rather than face the repercussions? Does it appear that your partner creates chaos just to keep you feeling anxious and insecure? Are you becoming obsessed with trying to figure it all out? Answer 'yes' to any of the above and you may be involved with a person who has narcissistic or psychopathic tendencies – tendencies that will never go away. Your efforts to change this person will always be in vain.
Zari Ballard's self/help memoir, When Love Is a Lie (available in Kindle and in paperback) has become the surprising relationship game changer for thousands of victims of narcissistic abuse…and it can do the same for you. Based on her own 12-year experience with a narcissistic partner, Zari's book explains the pathological relationship agenda of narcissists, why we become codependent on the very drama that we hate, and, most importantly, what we can do about all of it to save our own lives.
"I wasted many years trying to second guess myself even after I had discovered the truth. I became intent on turning him around…on fixing him..on loving him out of his bad behavior. I wanted our relationship to be the exception to the rule. Sadly, by developing a twisted codependency to the narcissistic nonsense and the relationship agenda itself – I, in essence, became the suffering. Scouring the internet forums, devouring books and articles on narcissism, studying about sociopaths and psychopaths…it appeared that all of us – every girl and guy (and, yes, there are many, many guys who suffer the same fate) had relationships that were completely interchangeable!
Then, one day I took a good new look at the old big picture and something shifted. Somewhere between the 100th silent treatment and the grand finale of discards, I finally let go and after that, everything began to change.  In the end, even with my heart shattered in a zillion pieces, I never shed another tear. I realized that I had to give up the need for closure and commit to no contact in order to feel peace – and the trade-off was well worth it."– Zari Ballard
Download From Amazon
Only $3.99

** Watch the Video Book Trailer for
When Love Is a Lie**
.