You don't have to wait until your relationship with a narcissistic partner is over to begin working on your recovery! If that were the prerequisite, most victims of narcissistic abuse would never have a chance.
Click Below to Download from Amazon: $3.99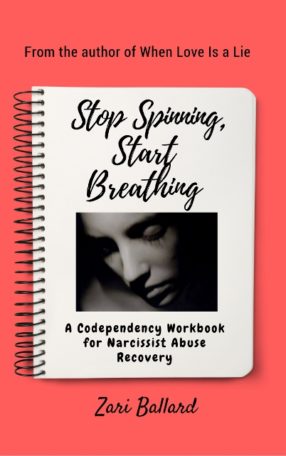 Stop Spinning, Start Breathing (a narcissist abuse recovery workbook), author Zari Ballard's companion workbook to the Amazon Best Seller When Love Is a Lie, is intended to help whether you're in the relationship or out of it, whether you're maintaining "no contact" or struggling with it, whether your being subjected to a silent treatment and you know the silence is temporary, and even while the narcissist is hoovering to get you back. The time to mentally break free from the narcissist is now!
Zari Ballard's interactive 3-part workbook, complete with discussions, lessons, and space for reader participation, focuses on breaking free from the agonizing codependency to hope that inadvertently causes a victim to become the narcissist's enabler. Victims hope that the relationship will get better or that the narcissist can be fixed or that, realizing the error of his ways, the narcissist will change on his own – three possibilities that are completely impossible. It's a false hope that will waste years of your life if you allow it. Remember that a narcissist only returns to his victims again and again to ensure that they never recover from the pain he has caused – and for this reason alone, recovery must – and can – start from any point in your journey today.
Click Below to Order at Amazon:  $3.99

Whether you're in it or out of it, this codependency recovery workbook will help you to put your toxic relationship with a narcissist in its proper perspective. You can learn to make the right choices and to come to terms with your conflicting beliefs about the person that is hurting you. Once you do that, your life will begin to make miraculous changes.