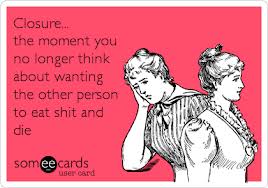 When a narcissistic lover walks away from a relationship, the victim typically is left to feel that he or she didn't get the closure needed to address the bitter ending. It took me many years of grieving on and off over this lack of closure to finally understand what it is and what it is I was really grieving over – because it wasn't closure. When I stopped to think about the fact that, out of all the seemingly hundreds of times I was discarded by the narcissist, there wasn't one single time that I ever felt closure? Not one? That just didn't seem logical to me. How could that be? Not one time? I started to come to the conclusion that perhaps this elusive closure I'd been missing for over a decade didn't exist after all. Perhaps wanting this closure thing was just my way of holding myself down, keeping myself chained to the memory…keeping myself available for the narcissist to return to when he was ready. It became clear that, either way, whether closure existed or it didn't, it wasn't a good thing!
Okay, so in Part I of Anybody Seen My Closure?, we talked about two points – or truths – relative to closure when it comes to the ending of a relationship with a narcissistic partner:  Truth #1 – it doesn't exist and Truth #2 – when we say we want closure, what we really want is revenge. In Part I, I talk about Truth #1 in more detail so feel free to re-read or catch up with that article. In this article, I want to focus a little on Truth #2….the revenge factor.
There's nothing wrong with wanting to see these narcissistic mofo's suffer and don't let anyone tell you differently. I truly believe that when the narcissistic discard first happens, we are so downtrodden…so distressed over our own cognitive dissonance….so brainwashed by narcissistic manipulation, that we are genuinely sadder than sad. Because the separation anxiety feels, at that point, like it will be so much worse than the anxiety of having the narcissist around, we really do want this person back. We wish and we wish that, if we can't have this person, the least he or she could have done is leave us with some closure! At that very moment, the feeling of not having closure is the saddest thing in the whole world.
** Check out the new Book Video Trailer for When Love Is a Lie**
But, two or three days later, when we find out that the narcissist is with the OW,  what do we want then? Sure, we still call it closure but is that really what we want – especially considering the fact that most of us don't even know what it is anyway? No, what we really want is revenge. Calling it closure makes the thought politically correct and makes us not feel like – God forbid – we've caught a bit of the narcissism bug ourselves.  The truth is that calling it "closure" does make us good people and, indeed, separates us from the 2 million degenerate narcissists, sociopaths, and psychopaths that walk the planet. The truth is that, when it comes right down to it….when all is said and done…most of us aren't going to do anything to get revenge on the N. And that's okay too. In fact, it's the right thing….which leads me to Truth #3: there isn't a single act of legal revenge that would make a damn bit of difference to the narcissist. And if we conducted an act of revenge that was illegal…well, it might make a difference to the narcissist but we'd be the one that gets in the most trouble.
My point is all of this jarble about closure and revenge is that closure doesn't exist and what it really represents to us is the act of revenge and if we acted on that act, we'd be in deeper emotional shit than we're already in. So give up on wanting closure and move on to whatever the next step would be in your narcissist recover plan.
It's okay to feel sad over what's happened because it is sadder than sad to realize that someone we loved and supported for however long never loved us to begin with. This person isn't normal and will never be normal. Narcissists aren't born normal. A narcissist is one of God's defective products  and that's all there is to it. So, of all the things we should feel and pine for when a narcissist partner perpetrates a silent treatment or gives us the big heave hoe to the curb or trades us in for a new victim who better serves his pathological relationship agenda, a lack of closure isn't one of them. It really isn't. In realizing this, we can save ourselves from having to get over one of the biggest hurdles that keeps us attached to the whole big mess.
You deserve so much better!
Subscribe to TheNarcissisticPersonality Update Feed
(Visited 9,276 times, 1 visits today)