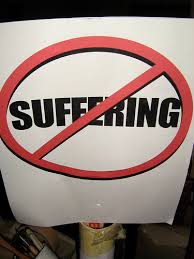 Mentally letting go of the narcissist is never going to happen as fast as we'd like unless we starting taking credit for recovery time served. If we did that…if we realized that there are phases to the suffering post-break-up with a narcissist and that, for the most part, we've moved through them successfully without even knowing it, we wouldn't be so inclined to give up and go back from whence we came – to the very person that caused us the initial grief.
Simply put, to break our addiction to the narcissist, we have to understand what all the suffering really means. I'm going to try to explain it so that everyone can find a place of peace. Believe me, when you "get it", you can rest assured that recovery is around the corner.
If we gave ourselves the suffering credit that we deserve…if we weren't so willing to give in and give up… we'd eliminate – at that point – the compulsion to break no-contact because we would know that it wasn't the narcissist we were even missing!
Okay, Zari, what the fuck are you talking about?
I'm saying that we become The Suffering. It's part of the game that we play with the narcissist and we're left with the residuals. Most of us don't realize that, when the final break-up with a narcissist occurs, our sadness and grief is actually less about the loss of the relationship than it is about the fact that we've become the suffering that was associated with it.
If you think about it, we spend far more time with The Suffering than we ever do with the narcissist himself/herself…so it's natural to become attached to it. The sadness becomes a familiar connection…it keeps us in the loop all by itself. This is why the narcissist likes to keep us anxious and off-balance. His theory is that as long as we're suffering, he can feel fairly confident that we'll always be in the queue. For the most part, his theory is right but we have the power to change that by, say, believing in a "theory" like mine – that we can get past the suffering and out of the fucking queue much quicker if we first realize that it's not all about him. We just think that it is.
It's been weeks…months! I don't even want the motherfucker back. So why am I so unhappy? All I want to do is cry. What the hell is wrong with me?

Nothing is wrong with you but there are two phases of suffering. Listen carefully. Time and time again, in consultations, I hear this: Why am I still so sad? I don't even want him back! What's wrong with me? The person I'm speaking with is usually beside themselves with self-doubt. I explain that this particular form of cognitive dissonance is a good thing and that it's different from the cognitive dissonance that makes us doubt the narcissist is even a narcissist. When you've reached the point of feeling nuts over the fact that you still feel sad, the worst of the suffering is actually over. You've passed through the first phase. In other words, you are no longer in denial!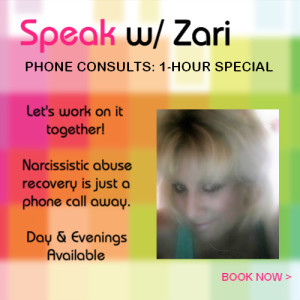 It's during that first phase that people will ask me "Are you sure he's/she's a narcissist? Are you sure?" (to which I typically respond, "The fact that you're calling me tells me you already know the answer to that.") Still, they may struggle or choose not to believe me. Two phone calls later, when I hear "He's a narcissist. I don't even like him! Why am I'm still crazy sad?", I know that they've moved on to phase two and are now attached only to the sadness itself  and while this attachment is actually more bittersweet than being attached to the narcissist, it's far easier to let go of!
The problem is that the second phase of suffering is where it becomes dangerous because if we don't understand it, we can easily give in to the depression and go back. This is why, if right now you are feeling the compulsion to make contact even though you've accepted the reality, it is imperative that you pay attention to what I'm trying to say. Listen up – you're NOT crazy!
The feeling of having to let go – to be free of the madness – is often difficult to appreciate. I didn't get it either at first. When my ex finally walked out (after 13-years), never to return, I couldn't even cry – I knew it had to end. Yet three months later, I still felt crazy with undeniable grief. It took me awhile to understand that my attachment to the narc was long over. It was my attachment to the suffering itself that I had to get over…my addiction to the very drama that I hated…and THAT I could handle!
At first we miss the delusions because although the madness wasn't pleasant, it wasn't dull either.  Being caught up in all that drama and chaos sure kept us occupied and on the edge of our seats. When all the narcissistic noise subsides, the silence is so deafening that we don't even realize that we are coming back to SANITY. And believe it or not, Zen Therapy and Buddhist Philosophy will tell you that after madness, the first phase of SANITY may not infrequently be a form of depression. I swear to you, this is the way it works! Look it up! You don't need professional therapy, you just to move through it. THIS TOO SHALL PASS – AND QUICKLY!
I'm done with the N and now I'm just stuck on the sadness. Everyone is sick of it and so am I.  How do I get through the final phase?

By realizing this: our suffering changes nothing. When we're with the narcissist, we suffer because we think it's going to change something – either with the narc or the relationship – but it never does. For instance, when my ex would disappear or go silent I would suffer like no tomorrow, day after day, until he returned. I just couldn't help it. The silent treatment was his favorite "punishment". Then one day, I switched it up, deciding to have a ball while he was gone, and what do ya know? He still returned. Suffering or not, the result was the same. Pretty soon, I was counting down the days until my next "vacation".
The same way that you were able to move past phase one of suffering (missing the narcissist) without even knowing it – by accepting the truth – is how we get through phase two. Understand in your heart that our suffering changes not a fucking thing. It doesn't change the world, our world, the narcissist's world, the past, the future…not a thing. We can curl up in the fetal position, lose ten pounds, and even feel suicidal and the universe and everything in it just keeps moving. As I said, in many ways, the final phase – the final "let go" before mental freedom – is often that bittersweet sadness that makes our heart shatter…like the ending to a really sad movie. But the truth is that the movie is OVER and it's time to exit the cinema.
When you get to the point that you still feel sad even though you KNOW you don't miss the N, believe me, it's done. Hold all that useless suffering – the suffering that changes not a thing – in the palm of your hand and blow it the biggest good-by kiss ever.
Think about it…if we can come to realize and accept that all the love in our hearts can't convince a narcissist to care about right from wrong, then we can certainly realize that our suffering changes nothing and choose to be happy.

Save
Save
(Visited 12,510 times, 6 visits today)